April 2, 2001
SENIOR HEALTH
By Irene S. Levine, Ph.D.


By any measure, Sadie is an exceptional employee at Robinson's-May department store in Thousand Oaks, California. At a celebratory brunch in nearby Santa Barbara, Sadie was honored with the exclusive Diamond Star award, which is reserved for store employees whose annual retail sales exceed $250,000.

Sadie is also remarkable because she is the oldest salesperson ever to work for the store. Now 87 years old, this great-grandmother has worked for Robinson's-May in Thousand Oaks for the past 22 years -- ever since she returned to work at the age of 65.

Advances in medicine, nutrition, and public health over the past century have extended life expectancy among older adults, creating a "senior boom." Across the nation, people are living longer, feeling healthier, and working productively for a greater portion of their golden years.

It is not surprising, then, that many older Americans are either postponing retirement until they are too sick to work or reentering the workforce as "working retirees."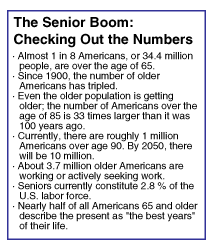 Why seniors work
Sadie has lived alone since she lost her husband, Al, 13 years ago. After his death, she continued working full-time at Robinson's-May until 1993. At the urging of her two sons, both around 60 years old, Sadie reluctantly cut back her schedule to 20 hours a week seven years ago to minimize the amount of time she spent on her feet. Clearly, though, Sadie still loves her job and, like many other seniors, gets a lot of satisfaction from being able to work.
As many of the peers listed in her address book become ill or die, Sadie's job, and in particular her senior status at the store, provides her with an invaluable network of social support. "Everyone knows me. Even the younger gals in the employee lunchroom say, 'Sadie come sit with me.' It's great to feel wanted and needed!"
Whether she's spending the day in the ladies' ready-to-wear department or selling blenders in housewares, Sadie approaches every customer in a warm, engaging way. Always patient and never in a rush, she gives them the kind of individualized attention and expertise they might expect to receive in a private specialty shop. "I love the business. I love the people. And it keeps my brain active. I always enjoyed the feeling of being a part of an organization," she says. "It gives me enormous pride and satisfaction when I help a customer and he or she remarks, 'I'm so glad I found you!'"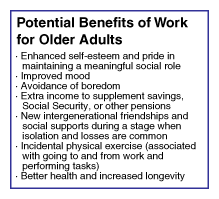 Living better, living longer
According to the U.S. Surgeon General, empirical evidence suggests there are three essential elements to successful aging:
Avoidance of disease and disability

Ongoing cognitive and physical functioning

Involvement in interpersonal relationships and productive activities
Actually, the good news for working seniors is getting even better. A recent study of more than 2,700 Americans suggests that having a job or engaging in volunteer work may be as effective as cardiopulmonary fitness activities in lowering the risk of death. In the study, reported in the British Medical Journal, researchers at the Harvard University School of Public Health found that seniors who are socially active and productive live longer than those who are not.
Business responds to seniors
Faced with labor shortages and a strong economy, companies from McDonald's to AppleOne Personnel, an employment agency in Glendale, California, are initiating "rehirement" programs to find and recruit seniors.
"In a tight labor market, when qualified workers are at a premium, it is important that management recognizes the advantages of designing programs to retain older workers," explains Anne Harvey, director of program development and services at the American Association of Retired Persons (AARP).
Some of the positive qualities possessed by senior workers include:
Company loyalty

Commitment to quality work

Good judgment during a crisis

Solid performance experience

Basic skills in reading, writing, and arithmetic

Ability to get along with co-workers
When to call it quits
So, if working after age 65 is so great, at what age should someone stop working? In a study of more than 3,000 individuals, the National Council on Aging (NCOA) found that decisions about how long to work and when to retire are increasingly being made on the basis of health and wealth rather than on the basis of age.
"We've entered a new age of old age," commented James Firman, Ed.D., president and chief executive officer of the NCOA. "The possibility of experiencing positive, vital aging lasting into the tenth decade of life is one of the new realities of the twenty-first century."
Related links:
Outside link: Working Options for Midlife and Older Workers (a service of AARP)
Outside link: Green Thumb, Inc. (funded by the U.S. Department of Labor)
Outside link: MaturityWorks (a service of the National Council on Aging)
Outside link: Senior Job Bank (a nonprofit referral service)
Send feedback on this article.